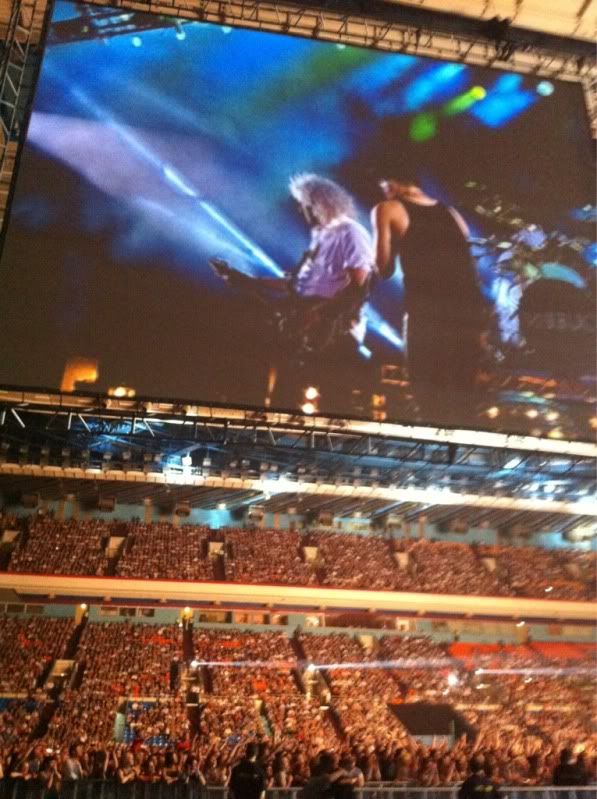 This one had no official live stream and attempts by fans to stream it failed. BUT we did get some great fan video's later and there were plenty of professionals filming the event so maybe something will be released later.
Adam really let go this time and nailed the whole thing from the very first note. It was so good to see him more relaxed and letting loose.
Here's the set list for Moscow – Note there are two versions of We Will Rock You.
Moscow set list
Flash intro
Seven Seas Of Rhye
Keep Yourself Alive
WWRY Fast
Fat Bottom Girls
Don't Stop Me Now
Under Pressure (Roger+Adam)
I Want It All
Who Wants To Live Forever
It's a Kind of Magic (Roger)
Days Of Our Lives (Roger)
Life Is Real (vocal Zemfira)
Love of my Life (Brian)
'39
Dragon Attack
Drum Battle
——————-
Gtr Solo
I Want To Break Free
Another One Bites The Dust
Radio Gaga
Somebody to Love
Crazy Little Thing Called Love
Show Must Go On
Bo Rap
——————-
Tie Your Mother Down(Brian)
WWRY
We Are The Champions
This channel has some of the BEST videos I found. I like that we see the rest of the band more than in the ones that focus only on Adam and we get lots of shots of what Adam is doing on stage from further away as well as close ups. They are not in set order but well worth watching on this playlist loop.
And here is the full set of Adam's performances using the best of videos that we've managed to locate (so far – will update if better ones appear)  in set order.
Videos of entire set list (w Adam)

Intro: 7 Seas of Rhye/Keep yourself alive/We will Rock You
Fat Bottom Girls
Don't Stop Me Now
Under Pressure (with Roger)
I Want It All
Who Wants to Live Forever
Dragon Attack
I Want To Break Free
Another One Bites The Dust
Radio Gaga
For audience shots
Somebody To Love
Crazy Little Thing Called Love
The Show Must Go On
Bohemian Rhapsody
Adam playing tambourine (Tie your mother down (Brian) and we will rock you – slower version)
We are the Champions (end)
 MP3S FOR DOWNLOAD! (HQ)
Somebody To Love   http://www.youtube.com/watch?v=31UhUjy-K7Y